2022
JAN 2022
Sat 29 - NEMINGHA TAVERN, 516 Armidale Rd, Nemingha NSW - 7pm til late. SOLO
FEB 2022
Sat 26 - NEMINGHA TAVERN, 516 Armidale Rd, Nemingha NSW - 7.30pm SOLO
APR 2022 
Sat 2 - DUBBO RSL CLUB, Cnr Brisbane Street & Wingewarra Street Dubbo NSW - 7PM SOLO 
Sat 16 - EASTER SATURDAY - "ILFORD COMMUNITY HALL", Ilford Hall Rd, Ilford NSW (just off Castlereagh Hwy) - SOLO Country Show - Day commences with BBQ @ 6pm, Music starts @ 7pm.
Why not come along to this beautiful picturesque & quaint country location....just like the good old Bush Dance days where all the locals are friendly & welcoming. Events here book out pretty quick....so get in early to book your table.
For all Bkgs please Ph Robyn Mob 0411 241039 (Tickets $20pp payable on day @ door) - Hope to see you there folks!
*Why not make a weekend of it & explore this beautiful area as the big BULL-A-RAMA is also happening in Rylstone the following day (Easter Sunday)*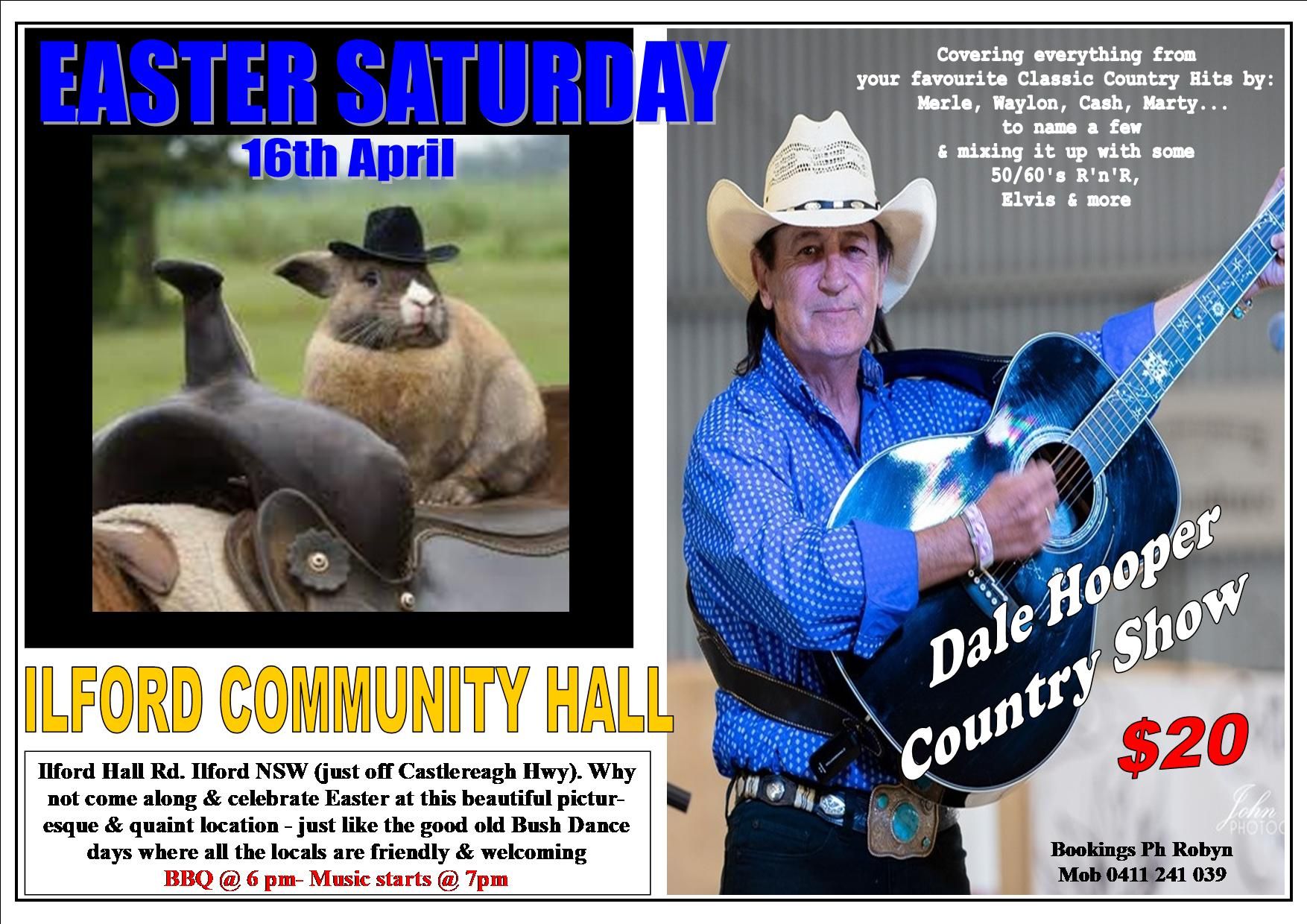 **TAMWORTH COUNTRY MUSIC FESTIVAL** - Mon 18th to Sun 24th April, 2022
Wed 20 - NEMINGHA TAVERN, 516 Armidale Rd, Nemingha NSW - 7pm til late. SOLO nb. A few spots available on night (during my breaks) for Walkups - Why not come along for a fun night & great country music - Bkgs & Courtesy Bus Ph 6760 9057
Thur 21 - NEMINGHA TAVERN, 516 Armidale Rd, Nemingha NSW - 7pm til late. SOLO nb. A few spots available on night (during my breaks) for Walkups - Why not come along for a fun night & great country music - Bkgs & Courtesy Bus Ph 6760 9057
Fri 22 - MANILLA Bowling Club, Arthur St, Manilla NSW - 8pm SOLO
Sat 23 - Bendemeer Hotel, Caroline St, Bendemeer NSW 12 midday - SOLO http://www.bendemeerhotel.com.au 
Sun 24 - West Tamworth Bowling Club, 103 Belmore St, West Tamworth 1pm - 3pm - SOLO 
JUNE 2022
DEC 2022
Sun 11 - WAGGA WAGGA RSL - Wagga CM Club *CHRISTMAS SHOW*
                       with Dale Hooper & Dwayne Elix - Showtime 1.30pm
For all info & Bkgs Ph Donny 02 6921 4862 or Nancy 0429 029 840